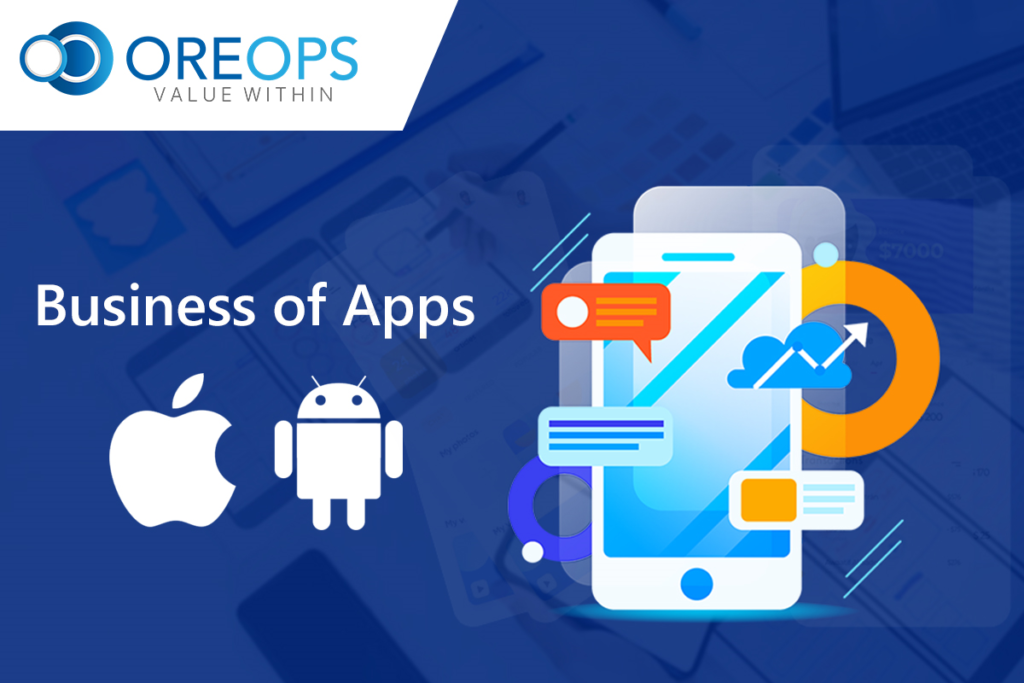 The A – Z of Android or iOS
Android and iOS is a mobile operating system designed to develop mobile devices such as smartphones and tablets. Both Platforms are used to build devices that make life easier. Many years ago, there were various mobile operating systems on the market. But today there are only two major operating systems. i.e., Android & iOS.   According to a study, the Android market share is 80.7% and for iOS is 17.7%. 
The first choice of buying a smartphone is not easy. Users switch to Android or iOS, depending on the features offered. Therefore, the developers should focus on developing the best android and iOS software with high-quality features. Android applications designer use Google's material design guidelines but iOS designer use Apple's human interface guidelines.
According to a study, 97% of malware, viruses, worms, etc., are for Android, and 0% attack on the iPhone. When it comes to security, the only viable choice is the iPhone. Mobile users like to have frequent updates that support both new and old devices; iOS has a huge advantage over Android in delivering software updates. But androids are best in hardware features such as big screen, battery life, and physical keyboard. Most of us choose android phones because they are more affordable than the iPhone. There are many mobile phone companies in the market to buy a phone, but most of those smartphones operate under two major operating systems: Android or iOS. These operating systems have been around for over a decade. 
THE BACKGROUND-Android & iOS
Android: What is about Android and How does it works?
Android is an open-source and Linux-based operating system developed by Android. Inc software company in California before acquired by Google in 2005. According to a research, 71% of devices run on Android. This is because of the affordability and its open-source nature. The device specification of entry-level smartphones is built with 2 GB or less of RAM and has an expandable memory via external sources. The first version of android 1.0 was released in 2008 that is the HTC Dream. The Latest version is android 12, preview released on February 18, 2021. Usually, android applications are developed in the Java programming language, and the source code is accessible to anyone. Initially, developers download the tool such as Android Studio and Android SDK and for creating applications, they depend on the third-party development environment Eclipse. In 2013, Google introduced a proprietary tool Android Studio that expands the range of available features. To develop an android app, no need to hire experienced technical developers. Even amateur developers can create first-class applications on Android. 
The best things about Android
Android apps have more usage than iOS apps. So most of the mobile development platforms focus on android application development. 
The applications developed using Android are more flexible and, developers can implement new ideas while creating it
Developers can modify the code quickly and adapt it to different devices.
The main reason for investing in the development of Android applications is easy installation and high profitability. 
Android mobile application development tools are cost-free.
It runs on multiple platforms.
It is open for distribution on the Google Play Store and other distribution channels.
Apps are cheap, and some are free to download.
Development cost of an application is low compared to iOS.
No need for any additional device to develop android apps.
iOS: (iPhone Operating System)
iOS is a Unix-based operating system developed by Apple Inc. for iPhone, iPad, and other Apple devices. It is the second-largest operating system used world-wide after Android. To introduce the iPhone in 2005, Steve Jobs started planning to shrink the Mac and enlarge the iPod. The first version of iOS was released in June 2007; it was named as iPhone operating system and as iOS in June 2010. It initiates a significant change from flip-phones to touch screen phones. Building iOS applications, developers need to know programming languages such as Objective-C, C++, C, and Swift. iOS developers create apps on the proprietary Xcode tool, but it is only compatible with macOS. With the iPhone software development kit, app makers develop applications for the platforms. It blends many functions such as camera, media player, messaging & internet browser in a single device; then upgraded with video chat and a voice-enabled personal assistant (Siri). Initially, the iOS application store opened with 500 applications. Later on, increased to 1 million apps and is expected to reach 5 million apps by 2020. The latest version is iOS 14, released in June 2020. In iOS, a protective shell covers all the apps. Without users' permission, one app cannot communicate with another app. There is no direct communication like as in Android OS devices.
The best things about iOS
Apple processors performance is better than Android
Every action is easy to do on an iPhone
Development time is higher because it provides high-quality apps
Offers a wide variety of accessibility features
Regular period of OS updates 
There is no unwanted software preloaded on an iPhone
Provides more security than Android
It is the most user-friendly phone
The Best apps are first launched in iPhone's than in Android
It works well with Mac 
How choosing the platform will get you on today show
Developers first thing to see is the reason to pick Android over iOS. The use of Apple iOS and Google's Android leading the global market; even newer platforms have arrived. Before developing the application, decide the platform which determines the failure or success of a business. According to research, android application development governs more than 86% of the market share. In the future, more businesses will depend on android application development. But there are merits and demerits in both platforms.
Significant factors in deciding the platforms are:
End users
Advanced features
Complexity in development
Task completion time
Income of the application
Maintenance cost
Got stuck with android & iOS development? Tips to find, which is easy!
Android is an open-source ecosystem, but iOS is a closed ecosystem. iOS and Android apps cannot work together because the code for native iOS apps won't support Android phones and vise versa. For example, Instagram runs on both but the developer has to work with different codes for each platform.  
With the closed ecosystem, more restrictions on creating applications, but the developer has more control over the apps. Buying a device is expensive because it works on a closed ecosystem. Indeed, developing an iOS app is more expensive than an Android.
With the open-source ecosystem, developers are allowed to do modifications and innovation. It is less secure and has fewer controls, however with larger capabilities.
The primary goal of the developers is to make money and engage the target audience. According to the research, 25% of iOS users download free apps, and 75% of users download paid apps. But in Android, 57% of users download free apps and 43% of users download paid apps. If the developers are going to charge for downloads, choose the Apple play store; Otherwise, choose Google Play Store. When the developer focuses on more downloads, Android is the best platform to choose. The fundamental strategy is to charge for app upgrades. 
When choosing operating systems, developers should consider the compatibility of existing software with current updated software versions. Most Apple users run their device on the current version, but Android has not been updated on the most recent OS. Only 20% of Android users operate on the current version. 
Most Apple users prefer to use iPads because they are user-friendly. Developers should also consider tablets when creating mobile applications. Creating an app for both iOS and Android at the same time is risky and expensive. The programming language is different for both platforms. Mobile app developers state that the iOS app is easier to create because Swift requires less coding than Java. The development environment of iOS is time-consuming & inability to run a few simulators simultaneously compared to Android Studio. Fragmentation is an advantage and a disadvantage for Android. Developers can create a broader range of devices, but they take more time to adjust the app's features for a particular device. 
Take the stress out of developing android or ios apps
Develop android app
To create an Android app, developers use Android Studio and Java programming language.
Download Android Studio and Install it (Integrated Development Environment used to develop, debug & test. The open Java Development Kit (JDK) package is included in Android Studio).
Open the Android Studio and build the new project. 
Choose a project template or customize the layout.
Create an emulator by using the Android Virtual Device (AVD) manager.
Run the app on an emulator and then on a mobile or tablet device. 
Troubleshoot if the device is not recognized.
Check how the device works. 
Develop iOS app
To develop an iOS app, developers use Xcode and a native programming language such as Swift or Objective-C. Using React Native(JavaScript) or Xamarin (C# & F#), developers build cross-platform native applications. 
Analyze the business needs and sketch the app using a pen or notepad.
Before creating an app, do market research to ensure that the app idea is feasible. 
Create application layout, user interface, and flow model.
Develop a graphic design and create a landing page.
Build the app with an Xcode development environment and Swift programming language.
Publish the app in the App Store.
By marketing, grab the attention of end-users.
Want to hear about JavaScript
JavaScript is the most widely used programming language; initially, it is created to develop web pages; later on, used in other environments as well. It is a unique browser technology because it is fully integrated with HTML & CSS. It acts as a third layer of standard web technologies; the first two layers are HTML & CSS. Initially, it is named "LiveScript", at that time, Java was very famous; Hence decided to change it to JavaScript three months later. JavaScript became the standard language with its ECMAScript (European Computer Manufacturer's Association); it was completely different from Java. Learning JavaScript is a must when working in the web development domain, building the best front-end & back-end software. Developers prefer to use JavaScript because it is versatile and robust in creating web and mobile applications. JavaScript does not meet everyone's requirements, so many new languages have been introduced; they are converted to JavaScript before running in the browser. JavaScript includes tons of frameworks and libraries used to reduce the time in software development. 
React JS
Let's have a sneak peek at how the JavaScript framework and libraries are the developer's best friend; This includes React JS front-end JavaScript library for web development. To overcome the issue of code maintenance, in 2011, React JS was developed by Facebook and is designed to create an interactive user interface. With React JS, developers design the application's declarative views and JS updates & return the correct components when data changes. Without using the existing code, developers can create new features in React. React is used to maintain bits of code and reuse them while working on a huge project. So it is component-based. It improves application performance by using virtual DOM (Document Object Model). React 16.0 released to the public in 2017, and React 16.8 released in 2019. Over the past eight years, it has made significant improvements in its application creation and development.
OREOPS
In the emerging low code platform, OREOPS is the one which helps the technical and non-technical developers to create Android & iOS mobile application without using a single line of code. Unlike other low code platforms, OREOPS can be used to build a full-fledged business application. The main idea of OREOPS is to simplify digital transformation for business by using ReactNative. API's connectors provide the best integration with any internal and external data source. Here one can develop a single application that works on different platforms. Without working on code, anyone can visually build an application, create an SQL query-based report, and drag & drop UI components. A bigger challenge is to upgrade applications to the customer requirements; OREOPS accomplishes this, if any customization is required, create actions and behavior using SmartCode. The source code extraction option is available, which is used to download ReactNative code and host it independently. OREOPS is a secure platform to develop applications.